Meet Award Winning Interior Designer Myron Wolman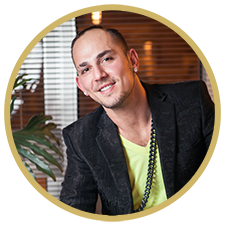 There is no such thing as too much drama. It's something everyone deserves a little of… – Myron Wolman
Myron Wolman takes spaces and makes them beautiful. Well, more like "…breathtakingly gorgeous and stand-out original."
Myron was born in South Africa before his family moved to the United States. Throughout his childhood, they split time between Los Angeles and Houston, Texas, which would become the breeding-ground for Myron's exploration of his artistic talent. At 15, he moved to Miami where interior design would become his focus, an opulent style becoming his trademark.
After working with a high-end interior design boutique, Myron was hired for his first full residential project at the age of sixteen. It was also around this time, he attended the Art Institute of Fort Lauderdale, studying interior design from a formal perspective.
Pulling from his South African roots, Myron's work is hallmarked with a strong exploration of nature in his designs. Today, his work can be seen and found coast to coast. Some of his commissions include the Ocean Club residences in Parardise Island and several in Miami, Beverly Hills, Atlanta, and New York. In addition to his solo projects, Myron has also collaborated on everything from conceptual design to completion for many nightclubs, bars, and restaurants. He was even awarded with the award for "Top 5 Nightclub Interiors" for his Moroccan-Asian influenced design, China White, in downtown Fort Lauderdale.
Myron Wolman Designs delivers the ultimate in luxe design, while also being budget-aware and detail-oriented. In August 2010, Myron was awarded by Florida International Magazine as one of the "Top 100 Creative Minds."
Top Innovator – Biz Bash
Readers Forum: Design Expert – Biz Bash
Top 100 Interior Designers – Florida International Magazine
66 Most Innovative People in the United States- Biz Bash Magazine